3D Imaging of Granular Flows
Due to density and opacity, capturing full 3D dynamics of a granular material is a difficult endeavor that requires a specialized and non-intrusive imaging technique. One way to look all the way through a granular material is to immerse the grains in a fluorescent index-matched fluid. A thin laser sheet will then illuminate a single cross-section of the pile. Scanning the laser sheet through the entire pile allows us to then capture a full 3D image of the system. As a whole, this process is known as refractive index matched scanning(RIMS).
After acquiring 3D images, we can then locate, identify, and track almost every individual grain within a dense pile, as well as probe various characteristics of local dynamics.
Publication: J.A. Dijksman, F. Rietz, K.A. Lőrincz, M. van Hecke, and W. Losert, Rev Sci Intstrum 2012 [AIP]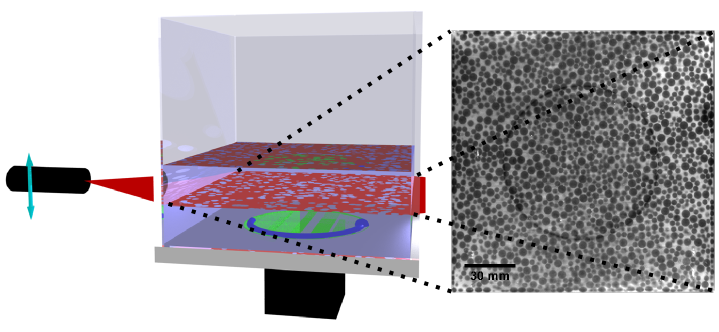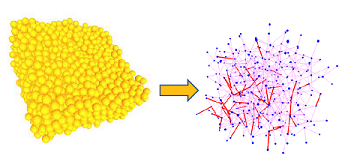 Top: Illustration of the RIMS technique with a typical cross section of a bidisperse material. Bottom: A 3D rendering of a quarter of the pile, and the corresponding contact and broken contact networks.